Zombrex
Talk

13
1,945pages on
this wiki
"The gift of life. Zombrex."
—Zombrex's slogan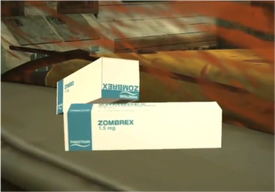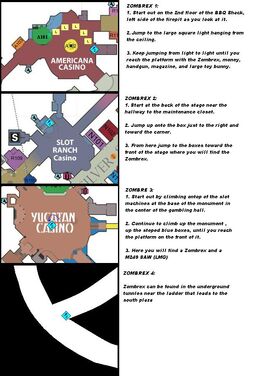 Ambuzol Vaspilatin or Zombrauctus Pendeo Autoinjectors, commercially marketed by Phenotrans as Zombrex, is a controversial over-the-counter drug that is used to treat pending zombification. It is administered in 1.5mg doses every 24 hours, typically via intramuscular injection. It has proven to be effective in delaying zombification in human patients of all ages. It is incapable of preventing zombification in animals. It is a subject of great controversy, as it is seen by many to merely forestall the inevitable.
Isabela Keyes created the drug after escaping the mall in Willamette. Her friend, Frank West, was also infected, and he uses Zombrex while the two of them are researching ways to come up with a complete cure.
In Dead Rising 2: Case West, it's revealed that Isabela had been working to develop a cure. The research notes for it were taken by Phenotrans's director Marian Mallon. The company has refused to allow Isabela to make a cure, or even a synthetic for the drug, for what they believe is humanity's karma, as well as for money.
Zombrex XC: Extended Care

In Dead Rising 2, There is a variation of Zombrex called "Zombrex XC: Extended Care", which lasts for 24 hours instead of 12.
Precautions to Zombrex
Zombrex should not be taken with alcohol.
Zombrex should not be taken within 24 hours of operating heavy machinery.
Zombrex should not be taken by pregnant women.
Zombrex overdoses are lethal, and patients should never be administered more than the prescribed amount within a 24-hour period (12 hours in Case Zero).
Zombrex is not a cure of zombification - it is a suppressor.
Zombrex is contraindicated in patients who are hypersensitive to any components of this product.
The recommended dose of Zombrex is 1.5mg once daily. Zombrex can be injected with or without food.
Dose adjustment in patients with renal insufficiency is based on degree of renal function. 0.75 mg once daily should be applied for patients of <30mL/min Creatinine Clearance level.
Zombrex is contraindicated for zombified subjects.
In the event of lack of Zombrex, panic is not wise or advised.
Choosing to not take Zombrex when needed may cause skin decomposition, irrational behavior such as biting, moaning, slowed speach, total loss of common sense, intence foul odor similar to rotting flesh and B.O. and acne.
Availability
Since the first outbreak known to the public, the Willamette Incident, it is carried by most ambulances.
Zombrex doses needed
Dead Rising 2: Off the Record:
You need a total of 7 doses of Zombrex in both game playthroughs and an 8th in Off the Record if overtime is done slowly.
People who use Zombrex
Posters
There are many Zombrex Posters put up all throughout Fortune City, 33 in all, that Chuck can vandalize for Prestige Points as well the Improper Behavior achievement/trophy.
Trivia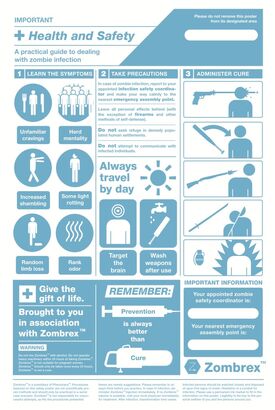 During the events of the Still Creek outbreak, standard 12-hour Zombrex was the only medication available. By the time of the Fortune City disaster three years later, 24-hour "Zombrex XC: Extended Care" has been introduced. [1]
On the Zombrex poster, the 'Wash weapons after use' heading shows a cricket bat being washed. The cricket bat itself may be a reference to the hit movie Shaun Of The Dead, in which the protagonist uses a cricket bat to fight off zombies.
Zombrex Shot, a skin from l4dmaps.com can replace the skin for the regular adrenaline shot from Left 4 Dead 2, another game themed around zombies
The tag line for zombrex is : "Keep living your life with Zombrex"
The instructions for administrating Zombrex as found on a Zombrex Injector box :
1:Scrub hands thoroughly with soap and hot water before opening
2:Disinfect Injection area with alcohol rub and soapy water
3:Inject needle with conviction to penetrate epidermis
4:Administer all medication, then dispose of immediately
Gallery
See also

The official website of Zombrex is located at the following URL: [2]