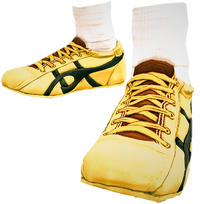 Paired with the Yellow Track Suit, these sneakers reference ones famously worn by Bruce Lee in the 1972 film "A Game Of Death,[1]" the last film Lee made before his death in which he fights American pro-basketball star Kareem Abdul-Jabbar.[2]
They are based on a Japanese brand of sneaker, Onitsuka Tigers, made by a company owned by Asics.[3]
This jumpsuit/sneaker outfit was later referenced in Quentin Tarantino's 2003-4 2-part epic homage to martial arts, "Kill Bill Vol.I & II", in which a similar jumpsuit is worn by Uma Thurmon's character, "The Bride".[4]
References
Edit
Ad blocker interference detected!
Wikia is a free-to-use site that makes money from advertising. We have a modified experience for viewers using ad blockers

Wikia is not accessible if you've made further modifications. Remove the custom ad blocker rule(s) and the page will load as expected.