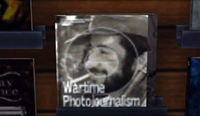 Wartime Photography is a book in Dead Rising.
The book can be found in Everyone Luvs Books on the first floor of the Entrance Plaza. If Frank has the book in inventory, Frank gains 25% more prestige points when taking pictures.
The book is entitled Wartime Photojournalism.
The man on the cover appears to be former Cuban president Fidel Castro.
Ad blocker interference detected!
Wikia is a free-to-use site that makes money from advertising. We have a modified experience for viewers using ad blockers

Wikia is not accessible if you've made further modifications. Remove the custom ad blocker rule(s) and the page will load as expected.