WWJWD?
Talk

0
1,945pages on
this wiki
WWJWD? is a mission from Dead Rising 2. It involves Seymour Redding, a local security officer, that is executing innocents at the South Plaza.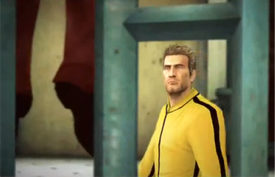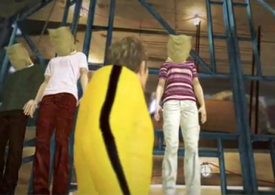 When Chuck arrives at the mission location, he will see hanged bodies by the under construction statue. Then Seymour Redding will appear and claim that he is the one who makes the laws in the city since the outbreak. Seymour will hang his hostage and then engage Chuck in a fight. When Chuck defeats him, he will try to climb the statue again, but will fall into a rotating saw that he turned on while climbing. Afterwards, Chuck makes the pun "Should'a 'saw' that coming".
Characters
Edit
Unnamed man
Unnamed woman
Unnamed woman
To kill him, Chuck will need a fast weapon (the Spiked Bat, Knife Gloves or the Katana Sword works well) as well as some food. When the fight starts he will shoot at Chuck and then try to hit you with his nightstick. Dodge the attack, and make a two-attack combo and dodge his counter-attack. Keep doing this until he´s dead.
Another way of dealing with him quickly is to use the Electric Rake. After the battle starts, just run in circles around him and pin him down. He will counter-attack sometimes, so grab the Rake from the floor and beat on. The range of the rake keeps him from melee attacks but is not far enough for his ranged weapon.
Engaging Seymour with any kind of long-distance wepaon is an exercise in futility; Seymour will merely use his revolver to disarm him, and he has very good aim. Also, do not climb the statue, because he will try to lasso Chuck. Melee weapons are strongly recommended.
Defeating Seymour Redding will allow Chuck to save Ray Teller
The scoop title, "WWJWD?" is a double reference, as it stands for "What Would John Wayne Do?", a reference to the actor who was well known for his American Western films, and it is also a play on the game's slogan; "What Would Chuck Do?". This in itself is another play on the popular acronym: WWJD? (What Would Jesus Do?).