For the Case West Phenotrans Facility underground see Underground Tunnel
The Underground is one of the Fortune City, Nevada locations in the game Dead Rising 2. The Underground, as its name implies, is the underground network of tunnels beneath the city that is inaccessible until Chuck progresses to Case 2-2: Ticket to Ride.
It is similar to the Maintenance Tunnels in Dead Rising's Willamette Parkview Mall, but made for trains instead of cars. Each plaza/casino in Fortune City has an access to the tunnels.
Stacey Forsythe notices several men moving heavy equipment in the Underground and sends Chuck to investigate, where he finds Tyrone King in charge of some hiest. He manages to catch up to the train as it escapes Chuck, who kills several of Tyrone's henchmen in the process. Before Chuck can apprehend Tyrone, the Terror is Reality producer uncouples the train, leaving Chuck behind.
Later, after the failed military rescue, Dwight Boykin and several soldiers evacuate to an area in the Underground. All but the sergeant are killed due to the zombies, leaving their bodies and burning Humvees to litter the Underground. Dwight has snapped due to the carnage and holds Rebecca Chang hostage, believing he is keeping her safe. Chuck manages to defeat Dwight and save Rebecca before Dwight commits suicide.
The tunnels are also home to an Underground Lab used by Phenotrans to extract Queens from zombies, staffed by Mark Bradson and Pearce Stephens, two researchers, and guarded by a number of armed mercenaries.
Entrances
Edit
There are seven entrances to the underground.
| | Location | Location description | Underground entrance | Coordinates[1] |
| --- | --- | --- | --- | --- |
| | Americana Casino | Down the hallway from the restroom where Chuck the Role Model occurs | Warehouse A | -448.8, -4.7, -1.3 |
| | Food Court | Near the Entrance to Yucatan Casino. | Warehouse C | 98.5, -1.6, -241.8 |
| | Palisades Mall | Between Bagged! (P108) and The Venus Touch (P108) on the first floor. Entrance to Case 2-2 | Warehouse E | 244.9, -0.6, -146.8 |
| | Royal Flush Plaza | Next to Maintenance Room 3 | Hallway between Warehouse C and Warehouse A | -138.6, -1.6, -62.1 |
| | Silver Strip | Between Maintenance Room 15 and the hallway to Atlantica Casino | Hallway between the Secret Lab and Warehouse B | 8.1, 0.7, -25.1 |
| | South Plaza | | Warehouse B | -304.9, -7.4, 108.6 |
| | Yucatan Casino | North Yucatan, next to restrooms, to the East of Baron Von Brathaus (Y101) | Hallway between Warehouse C and Warehouse E | 324.2, 0.0, -352.7 |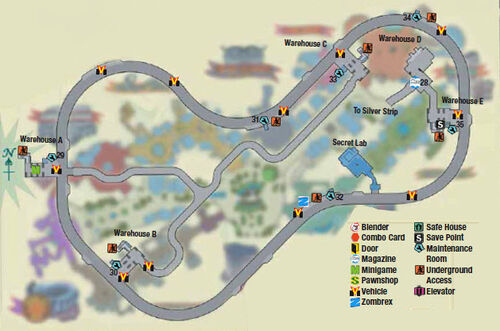 Item locations
Edit
Store
Location
Map
Type
Weapon
Food Books
Clothing
Mission
Underground Main Tunnel
4x4
Beer


Orange Juice (on train wagons)
Snack
Whiskey




Secret Lab

Underground
2x4

Pylon

LCD Monitor

Keyboard

Computer Case

Blast Frequency Gun

Bowie Knife

Box of Nails

Broadsword (on ceiling vent)

Bucket

Cardboard Box

Chainsaw (on the ceiling vent)

Coffee Pot

Construction Hat

Dolly

Fire Axe

Flashlight

Folding Chair

Gas Can

Handgun

Large Wrench

Lead Pipe

Machete

Military Case

Patio Table

Power Drill

Queen

Serving Tray

Sledge Hammer

Steel Shelving

Step Ladder

Hamburger

Case 7-2: The Only Lead

Mark Bradson

Warehouse A

Entrance to Americana Casino
4x4
Beer




Warehouse B

Underground - entrance to South Plaza
4x4
Hamburger





Warehouse C

Entrance from Food Court
4x4 (1) (near tracks)




Warehouse D

Underground - location of Case 6-2: Last Stand
Assault Rifle
Blades
Case 6-2: Last Stand
Warehouse E

Entrance from Palisades Mall
2x4 (2)

Acetylene Tank (2)

Box of Nails (2)

Cardboard Box (10)

Construction Hat (1)

Drill Motor[13] (1)

Dolly (1)

Fire Axe (1)

Gasoline Canister (3)

Motorbike (Black)

Pallet (3)

Pitchfork (1) (on freight)

Plastic Bin[5] (2)

Plates (2)

Pylon (4)

Sledge Hammer (1)

Tire (2)

Beer (2)

Coffee (outside Room 35)
Hot Dog (1)
Jellybeans (3)
Orange Juice (2)
Snack (1)


Case 2-2: Ticket to Ride

Tyrone King

Maintenance Room 29

Warehouse A - Below Americana Casino
Maintenance Room
Battery




Maintenance Room 30

Warehouse B below South Plaza
Maintenance Room
Fire Axe

Saw Blade

Sledge Hammer




Maintenance Room 31

North tunnel
Maintenance Room
Battery


Construction Hat
Dynamite
Leaf Blower
Leaf Rake
Parasol
Wheelchair




Maintenance Room 32

Secret Lab, left of in tunnel
Maintenance Room
Amplifier

Baseball Bat

Box of Nails

Propane Tank




Maintenance Room 33

Warehouse C - Entrance from Food Court
Maintenance Room
Amplifier (inside)

Bow and Arrow (inside)

Dynamite (2) (outside)




Maintenance Room 34

Yucatan Casino entrance, far north
Maintenance Room
Construction Hat


Fire Extinguisher
Gasoline Canister
Lawn Mower
Push Broom
Servbot Mask
Water Gun
Off the Record: Construction Hat
Off the Record: Motor Oil
Off the Record: Saw Blade (x3)
Off the Record: Tennis Ball Launcher
Off the Record: Funny Servbot Mask (Nearby)
Off the Record: Gasoline Canister (Nearby)
Off the Record: Lawn Mower (Nearby)
Off the Record: Lead Pipe (Nearby)
Off the Record: (Nearby)
Off the Record: Push Broom (Nearby)

Off the Record: Beer (x2)




Maintenance Room 35

Warehouse E
Maintenance Room
Cement Saw (inside)

Drill Motor (inside and out)

Plates (outside)

Shotgun (outside)



Prestige Point Sticker locations
Edit
Off the Record Prestige Point Sticker locations
References
Edit
External links
Edit
Safehouse Teleport, where these door teleports to the underground are found in the PC files.
Ad blocker interference detected!
Wikia is a free-to-use site that makes money from advertising. We have a modified experience for viewers using ad blockers

Wikia is not accessible if you've made further modifications. Remove the custom ad blocker rule(s) and the page will load as expected.