UH-60 Blackhawk
Talk

0
1,945pages on
this wiki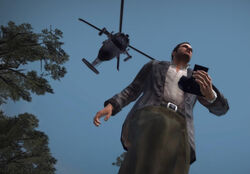 Once the Special Forces begin their operations the UH-60 Blackhawk will make frequent sweeps over Leisure Park, eliminating any zombies or survivors that happen to be there. If it sees Frank, it will attempt to strafe him with the machine guns and occasionally fire rockets at him. The best way to take it out is to hit it with machine gun fire; as the Real Mega Buster is more difficult to hit it with because of the way the ammo travels through the air. A good place to stand while you take it down is on top of the picnic shelter near the North Plaza entrance. It is also possible to simply shoot the pilot in the head with a sniper rifle, or use the sniper to shoot the rotor blades or main body of the chopper.
Many choppers similar to the park chopper attacked Ed at the beginning of the game in the second cutscene, because of the government's decision to cover up the incident and pretend that nothing happened. Brock was in charge of what gamers and walkthrough makers call "The Operation," the killing of all things (zombie or human) alive inside the mall. His soldiers were the wielders of the machine gun, the Special Ops crew. Again, these helicopters can be seen in the intro movie, hovering over a burning Willamette with their search lights on.
Try and aim in front of the helicopter and bring the gun back and up in a sweeping motion to get as many shots as possible on the helicopter. The Real Mega Buster is extremely hard to use on the helicopter as the projectile is almost always too slow to hit the helicopter. The shotgun also works well, due to its spread almost guaranteeing a hit.
Scout Bot, a miniature helicopter-bot controlled by the SF