Tomahawk (Dead Rising 2)
Type
Melee
Uses
30
Strength
Good (Melee)
Great (Thrown)
Location
Looters
The Chieftain's Hut
Fits in Inventory
Yes

The Tomahawk is a weapon found in Dead Rising 2 and Dead Rising 2: Off the Record. It is a small Native American axe, resembling a hatchet with a straight shaft.
As a melee weapon, the Tomahawk is relatively weak; however, when thrown, it can kill a zombie in a single blow.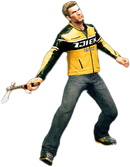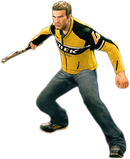 Combo: During main attack, tap / to swing the Tomahawk from left to right, in a parallel motion across Chuck's chest.[1]
One of the Looters in the case Find Katey Zombrex has a tomahawk. It is one of weapons most commonly used by Looters.
The tomahawk is one of the few weapons which main attack is an undercut, starting from Chuck's waist and swinging upwards.
Weapon Animations

Animation name
Animation shared with
1hand_b_rand_1



male_1hand_heavy_6_to_2_a

Unique to the Tomahawk (Dead Rising 2)
References
Edit
Ad blocker interference detected!
Wikia is a free-to-use site that makes money from advertising. We have a modified experience for viewers using ad blockers

Wikia is not accessible if you've made further modifications. Remove the custom ad blocker rule(s) and the page will load as expected.