Spitfire (Dead Rising 2)
Type
Food
Health
Locations
Blenders

Spitfire is a blended juice in Dead Rising 2, Dead Rising 2: Case Zero, Dead Rising 2: Case West, and Dead Rising 2: Off the Record.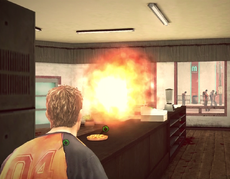 When drank, it changes Chuck's harmless ability to spit at zombies into a short range flame burst. To spit, hold

/

and tap

/

.
Due to the limited range of the flame, the ability of the Spitfire is rather ineffective while dealing with groups of zombies.
Recipes: Mixing this juice with another food
Edit
By mixing two ingredients in a blender, Chuck can create special mixed drinks.
References
Edit