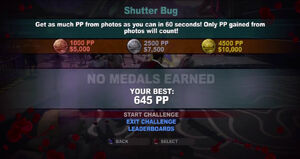 Shutter Bug is a single-player Sandbox Challenge in Dead Rising 2: Off the Record.
Location: Uranus Zone
Prerequisites: 3,800 kills
Mission: Get as much PP from photos as you can in 60 seconds! Only PP gained from photos will count!
Gold (4,500 PP)
Silver (2,500 PP)
Bronze (1,000 PP)
Gold: $10,000
Silver: $7,000
Bronze: 5,000
Strategies
Edit
Get the Erotica magazine from the men's bathroom in Slot Ranch Casino and then look for the small Souvenir Stand opposite Jump Space 7; there is a rack holding 4 Alien Probes which allows Frank to pick up an unlimited amount. Fill one's inventory with them and then drop them on the ground near the challenge area. After starting the challenge, take a photo of all the Alien Probes on the floor, which will result in thousands of PP per photo. It is possible to drop hundreds of Alien Probes prior to starting the challenge to get tens of thousands of PP.
Another way is to fill your inventory with fountain fireworks, then start the challenge. Striking zombies with them will result fireworks stuck in their heads and taking photos in this situation will give you a good amount of outtake PP photo bonus. Magazines, such as Photography 1 and Photography 2 are useful, but not critical towards the Gold medal.
Ad blocker interference detected!
Wikia is a free-to-use site that makes money from advertising. We have a modified experience for viewers using ad blockers

Wikia is not accessible if you've made further modifications. Remove the custom ad blocker rule(s) and the page will load as expected.