SUV
Talk

7
1,945pages on
this wiki
The SUV is a vehicle featured in Dead Rising 2 and Dead Rising 2: Off the Record. It is located on a stand in the Shamrock Casino which can be found along the Silver Strip. The SUV can be driven once the player has purchased the keys from the pawnshop directly opposite its location for $2,000,000 ($1,800,000 with one Bargaining Magazine, $1,600,000 with two).
The gate into the tunnels proper lacks the clearance to permit the vehicle, but if it taken into the tunnels for the fight with Dwight Boykin, it will be present afterward as a means of transporting Rebecca Chang without carrying her. As it seats four, it can also be driven to Fortune Park to rescue Matthew Kuss and Michael Woo.
It will withstand about 7,000 kills with the driving magazine.
This is recommended for getting certain achievements like Z-Genocider 2 and Z-Genocider Master, as it can hold roughly 7,000 kills with just a driving magazine. Without the magazine, it can kill about 5,000.
Items can be thrown onto the trunk of the SUV and will be carried around. This is great for if you have multiple heavy weapons, and even some food items in the trunk.
It is based on the Hummer H1, a civilian version of the HMMWV used by the military.
No Hair Glitch
Edit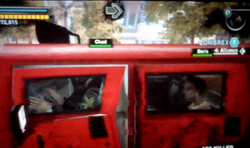 An unusual glitch was discovered involving hair loss. When one is in the SUV, one may see survivors with no hair. This usally happens to female survivors with longer hair. Such as Doris Elchart and Gretchen Peregrine. This can also rarely happen to Dean Wayne.
It is possible to sometimes jam the SUV through the low gate at the tunnel entrance.