Roulette Wheel
Type
Melee
Uses
20
Strength
Great
Location
Casinos in Fortune City
Fits in Inventory
No

The Roulette Wheel is a weapon appearing in Dead Rising 2.
It is found in the casinos in Fortune City. It is a heavy weapon that cannot be stored in Chuck's inventory.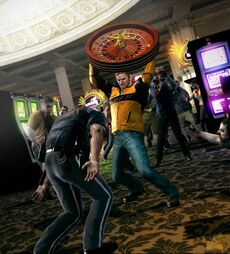 * One of the first six beta pictures, released in February of 2009, shows Chuck attacking a zombie with a roulette wheel.



Weapon Animations

Animation name
Animation shared with
male_attack_roulette_wheel_a

Unique to Roulette Wheel
Ad blocker interference detected!
Wikia is a free-to-use site that makes money from advertising. We have a modified experience for viewers using ad blockers

Wikia is not accessible if you've made further modifications. Remove the custom ad blocker rule(s) and the page will load as expected.