"If you're looking to outfit yourself in the purest essence of beauty, we are prepared to assist you every step of the way. Put our sensibility and undying attention to detail to work for you!"
—Willamette Parkview Mall Map
Refined Class is a ladies' apparel store on the first floor of Entrance Plaza.
It is one of sixteen women's clothing stores in the Willamette Parkview Mall.
PP Sticker
Edit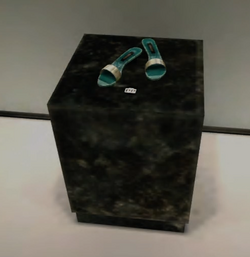 On the pedestal with the shoe display at the front of the store.
According to signs around the store and writing on a rug near the changing rooms, Refined Class is a New York-based company.
In Dead Rising 2, there was an intended Refined Class store in South Plaza, See South Plaza#Trivia.
Ad blocker interference detected!
Wikia is a free-to-use site that makes money from advertising. We have a modified experience for viewers using ad blockers

Wikia is not accessible if you've made further modifications. Remove the custom ad blocker rule(s) and the page will load as expected.