Randall Tugman
Talk

25
1,945pages on
this wiki
Randall Tugman
Voice Actor
Patton Oswalt
Age
28
Number
005
Notebook Description
A socially awkward virgin and internet sex addict who is using the outbreak as a chance to get "married" to any unfortunate women he can find.
Job
None
Mission(s)
Here Comes the Groom
Weapon of Choice
Giant Pink Chainsaw
Health
3200 (Dead Rising 2)
2900 (Off the Record)
Gender
Male
Race
Caucasian
Dead Rising 2 Psychopath



"Don't worry honey... the other ones didn't mean anything to me."
—Randy, talking about the dead bride

Randall "Randy" Tugman is a psychopath appearing in Dead Rising 2. He is an obese man in a fetish costume who wields a Giant Pink Chainsaw.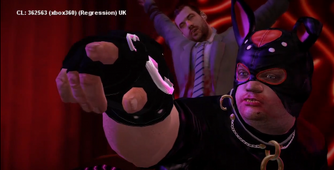 Randy has taken both his father, Emanuel, and a young woman named Danni Bodine as his captives at the Swept Away wedding chapel. Emanuel begs his son to let them go, calling him "Randall," to which he replies that his name is "Randy." Danni tries to escape, but is held back and restrained. Randy assures her that the other dead bride in the room meant nothing to him. Randy coerces his father into beginning the wedding ceremony, all the while revving his chainsaw.
As Emanuel notices Chuck Greene/Frank West enter the chapel, he cries for help - causing Randy to turn around while still holding his weapon. The blade of the chainsaw cuts into the suspended Emanuel's abdomen, killing him as Randy confronts Chuck / Frank. He accuses him of trying to ruin the happiest day of their lives, and attacks.
After he is defeated, Randy is knocked onto his back. He notices the silhouette of a bride approach and calls out to her, but is surprised as it turns out to be the zombified bride whom he had killed and is killed and eaten by the zombie as Chuck / Frank looks on.
Randall is easily one of the hardest Psychopaths ingame. Despite his obvious obesity, he's very fast on his feet and is more than capable of outrunning Chuck. However, his attack pattern is fairly simple, and can be exploited. He will sprint at Chuck and slash out with his Giant Pink Chainsaw, often flailing in a circular motion (which has good range for a melee weapon due to its large size). If the attack connects, he will perform a short pelvic thrust victory dance before repeating the process.
Vulnerabilities
Edit