Protoman Costume
Talk

1
1,945pages on
this wiki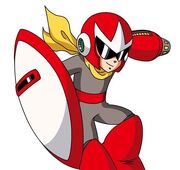 The Protoman Costume is an unlockable costume in Dead Rising 2: Off the Record.

The Protoman Boots are located in the Ultimate Playhouse in the Palisades Mall. If you look close enough, there is an 8-Bit Sprite of Megaman on the heels of the boots.
The helmet can be collected after you save Jack Ellis during Welcome to the Family. If you beat him in strip poker during Ante Up, he gives you the Protoman Helmet, identical to how you win the Knight Helmet in Dead Rising 2. You can also obtain the helmet by killing Jack in Sandbox Mode. He is found in the Arena at 12pm on the first day.
After finishing a game with an S ending, the Blaster and Shield are located in the Safe House restrooms. The blaster shoots energy balls similar to the one in Dead Rising, although not as strong. Wearing the Protoman Boots and/or helmet with the blaster adds an explosion to every shot. It will reappear in the safe house regardless of how many are in the player's inventory, however, it will not spawn at all in Sandbox Mode. The Blaster and Shield makes Frank run faster.
The jumpsuit is acquired by getting a Bronze medal or better in every Single-Player challenge in Sandbox Mode.
Protoman, or "Blues" is the prototype version of Megaman. The full costume makes Frank run faster.