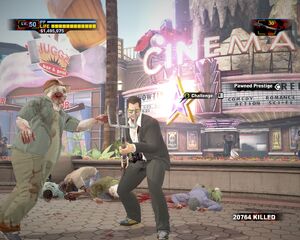 Pawned Prestige is a single-player Sandbox Challenge in Dead Rising 2: Off the Record.
Location: Silver Strip, in the front of Moe's Maginations.
Prerequisites: 4,000 Kills
Mission: Get as much PP as you can in 2 minutes!
Gold (20,000 PP)
Silver (12,000 PP)
Bronze (2,400 PP)
Gold: $40,000
Silver: $20,000
Bronze: $10,000
Strategies
Edit
In order to achieve the Gold medal simply make one boomstick and use its secondary attack (with combo card).
If you have enough cash, you can buy many Hail Mary's at the nearby pawn shop and then throw them at zombie crowds.
Ad blocker interference detected!
Wikia is a free-to-use site that makes money from advertising. We have a modified experience for viewers using ad blockers

Wikia is not accessible if you've made further modifications. Remove the custom ad blocker rule(s) and the page will load as expected.