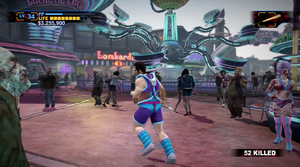 Orbital Oscillation is a Uranus Zone ride in Dead Rising 2: Off the Record.
Clear some of the Metal Barricades that are surrounding the ride. Toss out Firecrackers to draw the zombies, which the ride will smash, gaining Frank prestige points.
Acording to the name on the concept art (see below) this ride was once named "Rings of Saturn".
Killer Rides Challenge - Sandbox Mode - Kill as many zombies as you can in 3 minutes using only the killer rides in Uranus Zone!
Ad blocker interference detected!
Wikia is a free-to-use site that makes money from advertising. We have a modified experience for viewers using ad blockers

Wikia is not accessible if you've made further modifications. Remove the custom ad blocker rule(s) and the page will load as expected.