Ned's Knicknackery
Talk

0
1,945pages on
this wiki
"Come take a leisurely stroll through yesteryear as you browse our wide selection of antiques collected from the four corners of the globe."
—Willamette Parkview Mall
Ned's Knicknackery is an antique store on the second floor of Entrance Plaza.
Characters
Edit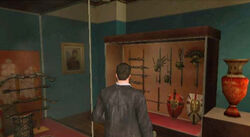 1 Battle Axe behind the counter
∞ Battle Axes in the right display case
1 Cash Register on the counter
∞ Katanas in the left display case
3 Vases in front of the mirror on the right
Ned's Knicknackery is the only antique store in the mall.
The door to Ned's Knicknackery can be closed, making it a safe place to hide from zombies. However, if the windows are open, the zombies can go though there, albeit falling and being vulnerable once they go inside.
It contains a high amount of weapons that can easily clear out zombies if they converge outside the store.
It's the only store that look the same in both Dead Rising and Dead Rising 2. The Dead Rising 2 store lacks a door, so zombies can get in.
Most of the weapons and armor that can't be picked up in the display case are weapons from the underated gem Shadow of Rome. These include all four helmets and the most of the weapons.
A banner bearing the Toyotomi samurai clan crest can be seen in one of the display cases.