Meat Cleaver (Dead Rising 2)
Type
Melee
Uses
30
Strength
Good
Location
Shanks
Luaii Wauwii
Fits in Inventory
Yes

The Meat Cleaver is a weapon in Dead Rising 2. It is commonly found in Wild West Grill House and Shanks.
The psychopath outfit, gives the player the ability to hack a zombies head off using the meat cleaver, by holding down the attack button. The same can be done with the machete, but has a different animation.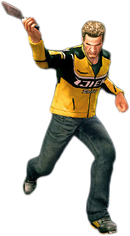 *Main: Tap

/

to swing the Meat Cleaver.



Weapon Animations

Animation name
Animation shared with
male_attack_meat_cleaver_a

Unique to Meat Cleaver




male_attack_meat_cleaver_b_rand

Unique to Meat Cleaver




male_attack_meat_cleaver_miss

Unique to Meat Cleaver
Ad blocker interference detected!
Wikia is a free-to-use site that makes money from advertising. We have a modified experience for viewers using ad blockers

Wikia is not accessible if you've made further modifications. Remove the custom ad blocker rule(s) and the page will load as expected.