The Mannequin Female Left Leg is a weapon in Dead Rising 2.
It is obtained after breaking a Female Mannequin. Unlike the torso attached to a head, the head, and the arms, the two legs when the foot is still attached are too big to fit into Chuck's inventory. When the foot is broken off, the leg fits into inventory.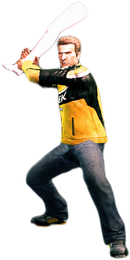 * Main: Press

/

Chuck raises the leg over his right shoulder and swings down across his chest. This attack looks similar to the baseball bat attack, but does not have a second hit.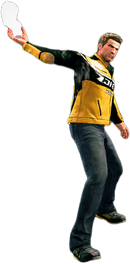 * Main: Leg alone - tap

/

for Chuck to swipe the leg over his right shoulder downward.
This item is destroyed when thrown.[1]
The Prima Official Guide does not mention this weapon.
In the PC file items.txt the female left foot and leg is referred to as "MannequinFemaleLLegLFoot".
Weapon Animations

Animation name
Animation shared with
1hand_b_rand_1



male_attack_1hand_a_impact_miss_8_to_4_light

Mannequin Female Left Leg



male_attack_bass_guitar_a

Mannequin Female Left Leg
Section of leg
Edit
References
Edit
↑ In items.txt, this item has the line DestroyOnThrownImpact = "true". see Mod:List of items.
Ad blocker interference detected!
Wikia is a free-to-use site that makes money from advertising. We have a modified experience for viewers using ad blockers

Wikia is not accessible if you've made further modifications. Remove the custom ad blocker rule(s) and the page will load as expected.