Machine Gun Bike
Type
Vehicle
Fits in Inventory
No
The Machine Gun Bike is a weapon and vehicle found in Dead Rising 2.
It can be crafted after the Meet the Contestants mission unlocks the use of Leon's trailer by combining a Dirtbike with an LMG.
This weapon is good at killing zombies, but the Slicecycle may be a better choice, since it can kill more zombies and is easier to create.
LMG Locations
Edit
Vehicle Modifications
Edit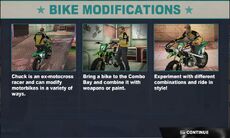 In Dead Rising 2, after defeating the psychopath Leon Bell during the mission Meet the Contestants, Chuck acquires a key to Leon's Combo Bay and a green dirtbike.
In Off the Record, after defeating the psychopath Chuck Greene during the mission People Like Us, Frank also acquires a key to the Combo Bay and a green dirtbike.[1]
The dirtbike, located in the Combo Bay on the Silver Strip's north end, will respawn every time the player enters another area with a load screen.
Tutorial screen:
BIKE MODIFICATIONS
Chuck is an ex-motocross racer and can modify motorbikes in a variety of ways.
Bring a bike to the Combo Bay and combine it with weapons or paint.
Experiment with different combinations and ride in style!
The dirtbike is the only vehicle the player can customize with new paint jobs or modifications. The player cannot paint the Chopper or the mercenary bike.
The following is a list of every item that the player can combine with the bike:[2]
References
Edit
↑ "cMissionDefinition TrailerUnlock" in missions.txt
↑ Stratton, Stephen (2010). Dead Rising 2 Prima Official Game Guide. Prima.