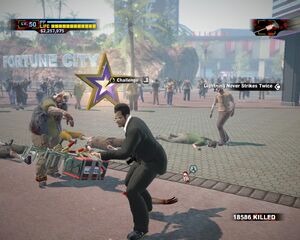 Lightning Never Strikes Twice is a single-player Sandbox Challenge in Dead Rising 2: Off the Record.
Location: Fortune Park, near the entrance to Atlantica Casino.
Prerequisites: 4,800 kills.
Mission: Kill as many zombies with ELECTRICITY as you can in 90 seconds!
Gold (150 kills)
Silver (80 kills)
Bronze (40 kills)
The Electric Rake and Electric Chair are useless because of their attack speed, durability and the inability to put them in Frank's inventory. To obtain the Gold medal make two or three Lightning Guns and fire on zombie crowds. Quickstep drink may also be useful providing extra mobility. Another solid way to handle this one is to create a Tesla Ball and Electric Crusher, throwing the former into crowds until it breaks (it should get around 90 before it falls apart) and finishing up the remainder with the latter.