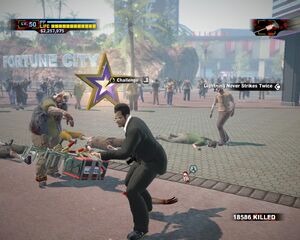 Lightning Never Strikes Twice is a single-player Sandbox Challenge in Dead Rising 2: Off the Record.
Location: Fortune Park, near the entrance to Atlantica Casino.
Prerequisites: 4,800 kills.
Mission: Kill as many zombies with ELECTRICITY as you can in 90 seconds!
Gold (150 kills)
Silver (80 kills)
Bronze (40 kills)
The electric rake or the electric chair are useless because of their attack speed, durability and the inability to put them in Frank's inventory. To obtain the Gold medal make two or three lightning guns and fire on zombie crowds. Quickstep drink may also be useful providing extra mobility. The Electric Crusher is also a good choice of weapon for this challenge.
Ad blocker interference detected!
Wikia is a free-to-use site that makes money from advertising. We have a modified experience for viewers using ad blockers

Wikia is not accessible if you've made further modifications. Remove the custom ad blocker rule(s) and the page will load as expected.