The lamp is a weapon in Dead Rising 2 and Dead Rising 2: Off the Record.
It is a portable electrical device used to create artificial light by use of an electric lamp.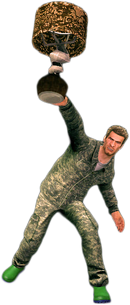 Main: Tap / to raise the lamp over Chuck's right shoulder, and quickly swing it in a diagonal motion.
This item is destroyed when thrown.[1]
In the PC file items.txt, the lamp is referred to as "HotelLamp" (Hotel Lamp).
Weapon Animations

Animation name
Animation shared with
male_1hand_heavy_8_to_4_a_miss

Lamp
Pan (heated)



male_attack_1hand_club_c

Lamp
Pan (heated)
References
Edit
↑ In items.txt, this item has the line DestroyOnThrownImpact = "true". See Mod:List of items.
Ad blocker interference detected!
Wikia is a free-to-use site that makes money from advertising. We have a modified experience for viewers using ad blockers

Wikia is not accessible if you've made further modifications. Remove the custom ad blocker rule(s) and the page will load as expected.