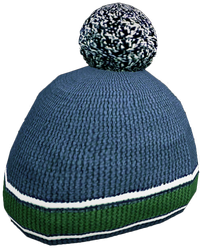 The Knit Cap is clothing found in Dead Rising 2. It is found specifically in:

Small Fry Duds in Royal Flush Plaza Second Floor


Que's Hats in Palisades Mall Second Floor .
In the PC file items.txt this item is called Tuque Dispenser (TuqueDispenser). A Tuque is a knitted cap, originally of wool though now often of synthetic fibers, that is designed to provide warmth in winter. Most tuques are tapered; they sometimes have ear flaps, and may be topped with a pom-pom, this style of tuque is sometimes referred to as a bobble hat, boggan or sherpa.
The Toque resembles a Vancouver Canucks Toque. Canucks are the NHL hockey team where Capcom Vancouver is located.
Ad blocker interference detected!
Wikia is a free-to-use site that makes money from advertising. We have a modified experience for viewers using ad blockers

Wikia is not accessible if you've made further modifications. Remove the custom ad blocker rule(s) and the page will load as expected.