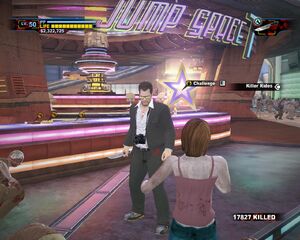 Killer Rides is a single-player Sandbox Challenge in Dead Rising 2: Off the Record.
Location: Uranus Zone
Prerequisites: 3,500 kills
Mission: Kill as many zombies as you can in 3 minutes using only the killer rides in the Uranus Zone!
Gold (80 kills)
Silver (40 kills)
Bronze (20 kills)
Gold: $60,000
Silver: $30,000
Bronze: $15,000
To achieve the Gold medal first of all remove all the metal barricades preventing zombies from getting into swinging zone before starting the challenge. Then start it and use the firecrackers to lure the undead to the right place where giant spaceship can kill them, 3-4 stacks should be enough. Zombait also may be useful.
Ad blocker interference detected!
Wikia is a free-to-use site that makes money from advertising. We have a modified experience for viewers using ad blockers

Wikia is not accessible if you've made further modifications. Remove the custom ad blocker rule(s) and the page will load as expected.