Keiji Inafune
Talk

0
1,945pages on
this wiki
"Don't cut me off like that, it's rude!"
This article is in need of some cleanup. Look into spelling and grammar.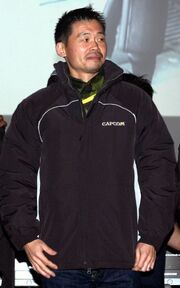 Keiji Inafune (稲船 敬二Inafune Keiji?, born May 8, 1965) is the former head of Research & Development and Online Business and Global Head of Production at Capcom, best known for being the character designer of Mega Man and producer of Onimusha and the Dead Rising video game series. In most game credits, he uses the name "INAFKING".
On October 29, 2010, Inafune announced on his blog that he will be leaving Capcom at the end of the month with the intention of "starting his life over" at Sony. He had been with the company for 23 years. Now, Inafune is making a new game for the Nintendo 3ds "King of Pirates" (take note of the art style, and how it is totally similar with some Megaman characters) this is also Inafune's way to prove his own strengths in the gaming industry.
Inafune Keiji's interview with 4Gamer
Gallery
{C}