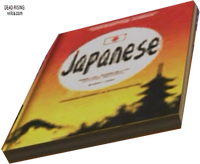 Japanese Conversation is a book in Dead Rising.
It can be found in Sir Book-a-Lot on the second floor of Wonderland Plaza. This book is involved in the scoop Japanese Tourists. It allows Frank to communicate with Yuu Tanaka and Shinji Kitano. It is useless after the scoop.
The book is titled Japanese.
In Dead Rising 2, this book can be seen in display cases in the Palisades Mall. They cannot be picked up, however.
Ad blocker interference detected!
Wikia is a free-to-use site that makes money from advertising. We have a modified experience for viewers using ad blockers

Wikia is not accessible if you've made further modifications. Remove the custom ad blocker rule(s) and the page will load as expected.