"You think this is about fun? HUH? You think this is about SPORTSMANSHIP??!"
—Grim Gobbler, to his followers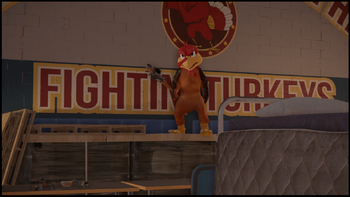 The Grim Gobbler is a Maniac in Dead Rising 4. He's a deranged high school sports mascot in a turkey costume.
Frank encounters him when he goes to investigate the Willamette Junior High School, and stumbles upon him holding a sort of rally with several football players. The Grim Gobbler notices Frank, and sicks his followers on him. He fights with an Equalizer.
References
Edit
Credit to Xbox Live user GOSEIRED for high quality screenshot.
Ad blocker interference detected!
Wikia is a free-to-use site that makes money from advertising. We have a modified experience for viewers using ad blockers

Wikia is not accessible if you've made further modifications. Remove the custom ad blocker rule(s) and the page will load as expected.