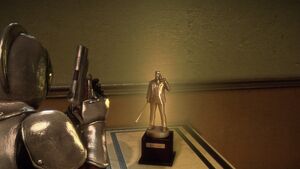 Frank Statues are a collectible item in Dead Rising 3.
There are 70 statues scattered throughout Los Perdidos.
They provide 2,000 PP when picked up for the first 20 statues.
After reaching 20 statues or more, each one afterwards will reward Nick with 5,000 PP when picked up.
They become worth up to 10,000 PP each when 40 statues or more have been collected.
Collecting them all will unlock the Hero Worship PP trial. 
One can be found in Dead Rising 4 as an easter egg. Collecting it will grant the achievement Idol Worship.  
Locations
Edit
Total = 16
Image
Map
Location
Description
Ingleton
On the doorstep of one of the homes in northwestern Ingleton.
Ingleton Motel
On the balcony of the second floor of the Ingleton Motel.
Ingleton Park
Climb the rooftops of the buildings north of the park and jump to the top of the jungle gym.
Dave's Awesome Cars
On the rooftop of Dave's Awesome Cars.
Lee-Amies Estates
In one of the bedrooms on the second floor of the Lee-Amies Estates.
Shanks
In the back storage room of Shanks on metal shelving.
Happy Good Mart
In the back room of the Happy Good Mart.

Use the Happy Good Mart Key after defeating Zhi.

Shavey's Garage
On a workbench inside of Shavey's Garage.
Paradise Platinum Screens
On the rooftop of Paradise Platinum Screens. 
Chinese Opera House
In the courtyard outside of the Chinese Opera House on a picnic table.
La Fawnda's Fine Threads
In the back store room of La Fawnda's Fine Threads.
Los Perdidos Utility
As soon as Nick enters through the front door, the statue is sitting on a desk.
Low Cost Luxury
Can be accessed by jumping from the roof of Low Cost Luxury.
St. Keith's Memorial Grounds
On one of the monuments in St. Keith's Memorial Grounds.
St. Keith's Chapel
On a workbench in the garage of St. Keith's Chapel.
Ingleton Taxi Company
In the garage inside the lot of the Ingleton Taxi Company.
Sunset Hills
Edit
Total = 15
Central City
Edit
South Almuda
Edit