Default Clothes are Frank's normal clothing, appearing in Dead Rising, Dead Rising 2: Case West, and Dead Rising 2: Off the Record.
The clothing is a brown suit with a camera.
Locations
Edit
Dead Rising
Edit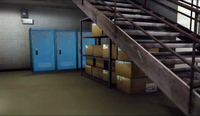 The boxes under the Heliport stairs return Frank to his original brown clothes.
The three blue lockers under the stairs contain clothing if the player downloads the Downloadable Outfits.
Case West
Edit
See also Chuck's Default Clothing
In Dead Rising 2: Case West Frank and Chuck Greene can both change into their default clothing in the Shipping Office.
Clothing Pieces
Edit
Frank's Default Clothes 

Frank's Default Shoes

The Xbox 360 name of this piece of default clothing is: cos101.mod[Verification needed]

Frank's Default Face and Hands:The Xbox 360 name of this piece of default clothing is: pl01.mod[Verification needed]

Frank can change to his default face in mirrors in bathrooms.

Frank's Default Hair

The Xbox 360 name of this piece of default clothing is: cos200.mod or cos206.mod
v

·

e

·

d
Outfits
Red and White Shirt with Checkered Shorts
Brown Jacket with Black Pants
Black and White Top with Grey Shorts
Black and White Spandex Track Suit

White Teddy
USA Track Outfit
Blue Shirt with Red Shorts
Green Ratman Shirt with Blue Shorts
Pink and Black Shirt with Pink Shorts
Red and Grey Ratman T-shirt with Brown Shorts
Blue Vest with Tan Shorts
Camoflauge Vest with Brown Shorts
Dresses and Skirts
Black Sundress with Red Roses
Blue and White Flowery Dress

Purple Dress

Black Skirt

Pink Skirt

White Skirt
Suits
Frank's Default Clothing
Gray Suit
White Suit
Black and Brown Checkered Suit
White and Gray Dress Suit
Yellow Suit
Shoes
Bare Feet
Black Dress Shoes with Purple Socks
White Dress Shoes
Orange Lowtops
White and Red Lowtops with Soccer Socks
Red and Black Running Shoes
Glasses
Gray Rimless Glasses
Red Armless Sunglasses
Silver Rimless Glasses
Silver Wire-Frame Dark-tinted Glasses
Black and Orange Sunglasses

Grey Sunglasses
Hats and Hair
Black Baseball Cap
Blue and White Baseball Cap
Black Fedora
Grey Fedora
Light Brown Fedora
Tan Fedora
Brown Hair Dye
Grey Hair Dye
Light Brown Hair Dye
Red Hair Dye
Mega Man Helmet

Shaved Head
Masks
Ghoul Mask

Servbot Mask
Teddy Bear Mask
Horse Mask
Unlockable Clothing

Ammo Belt
Arthur's Boxers

Cop Hat

Hockey Mask
Mall Employee Uniform
Mega Man Boots
Mega Man Torso

Prisoner Outfit
Pro Wrestling Boots
Pro Wrestling Briefs
Special Forces Boots
Special Forces Uniform

White Hat
Downloadable Clothing

Accountant Outfit
Burgundy Wine Outfit

Casual Outfit
Cold Hearted Snake Outfit

Grandpa Outfit
Man in Black Outfit
Miami Nights Outfit
Pink Paparazzi Outfit
Pure White Outfit
Round Shades Outfit

Strike Outfit

Weekender Outfit
Chop Till You Drop Exclusive
Apocalypse Frank
Ad blocker interference detected!
Wikia is a free-to-use site that makes money from advertising. We have a modified experience for viewers using ad blockers

Wikia is not accessible if you've made further modifications. Remove the custom ad blocker rule(s) and the page will load as expected.