Floyd Sanders
Talk

4
1,945pages on
this wiki
"It's hopeless anyway. I may as well spend my last moments enjoying this. If I'm going to die, I'd just as soon do it surrounded by great works of art."
—Floyd, on speaking to Frank about his current situation
Floyd Sanders is a survivor appearing in Dead Rising and Dead Rising: Chop Till You Drop. He is found taking cover in Ned's Knicknackery in the Entrance Plaza during the scoop Antique Lover. He is an art appreciator, and has decided that he would rather die surrounded by art.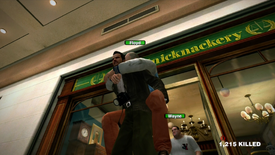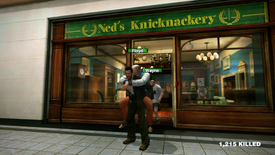 Floyd is found taking cover in an antique store in the Entrance Plaza. When Frank approaches him, Floyd tells him that he sees the situation as hopeless and would rather die surrounded by great works of art. Frank then asks him to reconsider, and points out that the works of art are no more than junk for sale at a mall. After deliberating, Floyd decides that he does want to live again and accepts Frank's offer to bring him back to the Security Room.
Floyd recognizes that there is a lot of tension between the younger survivors, and thinks that some wine would soothe their nerves a bit. He asks Frank to bring some back. He thanks him for taking the time to do so if Frank obliges his wishes, and snaps that he can't even do an old man a favor if he doesn't.
Depending on the ending, Floyd was either rescued by Ed DeLuca,flown out of willamette by otis, taken into custody by the Special Forces and possibly killed to cover up the Willamette incident, or killed by Carlito Keyes's bombs.
Floyd appears in theater 1 in Colby's Movieland from 7:00:00 to 7:07:00 carring a snack and uses a shovel.
Join Bonus: 25,000 PP
Escort Complete Bonus: 50,000 PP
Request Fulfilled Bonus: 10,000 PP
Completing Antique Lover and rescuing Floyd gives Frank to opportunity to take on another scoop, Floyd the Sommelier.