Everyone Knows Slappy
Talk

1
1,945pages on
this wiki
"Don't forget to come back for me!"
This article needs more information. Please expand!
Everyone Knows Slappy is a mission in Dead Rising 2 involving a psychotic mascot named Slappy portrayed by Brent Ernst who has gone crazy after his date for the evening, Louise Jameson, was killed by zombies from the outbreak.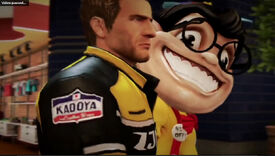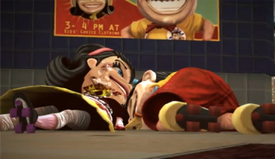 Stacey has spotted a Kid's Choice Clothing mascot lying in a pool of blood in the Palisades Mall, and Chuck must go investigate it. Upon arriving the store, players must examine a dead mascot (Louise Jameson) to trigger a cutscene, after which Chuck must defeat the psychopath Brent Ernst.
Video Playthrough
Edit
The fight will begin with Slappy going back and forth in front of the toy store while letting out flame attacks on his left and right. It is recommended that you carry at least 2 healing items, though there are a number of stores with virtually unlimited supplies of them (especially the Fine Foods store, which has orange juice and steak). It is also advised that you take a watergun or fire extinguisher to stop his flamethrowers. As for weapons, you can bring in the melee weapon(s) of your choice, or use guns: one LMG will probably be enough, if you're accurate, and you can fetch additional artillery from the gun range.
The first thing you should figure out is how to stop Slappy from moving. The easiest way to do so is go in front of him and hitting him with a Drop Kick right in the face. One solid hit basically makes him stumble and stunned. From there, get behind him and hit him with your strongest melee weapon (recommended choices: a Laser Sword or Driller). If you attack him from the side or the front, the flames emitting from Slappy's flamethrowers will stop Chuck in his tracks
Once Slappy has gotten to his feet, jump or roll away from him as he will unleash a spinning flame attack that'll cover anything 360 degrees from where he's standing. Getting hit will send Chuck on the floor.
Another tactic is to shoot Slappy with a watergun or fire extinguisher so that he stops and has to fix his gun then run to the high-noon shooting range and use the unlimited supply of grenades and the various firearms against the crazed mascot.
A third tactic is to stay in the toy store next to where the fight starts, Slappy will not enter and instead skate around outside, stopping now and again to fire at Chuck. Take an LMG and a shotgun (or two Merc assault rifles if you can) and just stay inside the store, behind any of the racks. His fireball attack will not be able to hit you there and as long as you fire accurately you should be able to quickly lower his health with no damage done to you.
If you prefer up-close fighting, you can use a broadsword, battle axe, or Defiler: these weapons' jump attacks will knock him down, leaving him open to several strikes.
A fourth, incredibly easy method to use is to gather up a few survivors and equip them with sniper rifles. Then grab yourself a water gun or fire extinguisher (or two, though one should be enough). Just keep squirting him with the water gun to minimize the number of fireball attacks he uses, and your followers will kill him quickly with their sniper rifles. Throwing in the occasional double drop kick helps too. I just used this method with two survivors and beat him in under 30 seconds.
Things to note: If Slappy is not taken down after going back and forth, he will stop and release 3 to 4 burst fireball shots at Chuck causing him to fall on the ground. This also causes Slappy to stumble for a few seconds after he has finished shooting. If you managed to dodge his fireballs, it will be a good time to get near him and land a few hits. He won't do his 360 spin attack this way, even if you do a combo on him. After the attack, Slappy returns to skating back and forth in front of the toy store.
Characters
Edit
Psychopath Defeated Bonus: 20,000 PP
Combo Card
Edit
In Dead Rising 2: Off the Record you can get a Special bonus if you take a picture of Slappy when he does his fire spin attack, an Outtake bonus for taking a picture of him when he is stunned and you can get Brutality bonuses by taking a picture of his fireball shots and another one if you take a picture of his body after you defeat him.
Slappy is named after Slappy from The Goosebumps series, who Brad Swaile also did the voice of.