Drill Bucket
Talk

0
1,945pages on
this wiki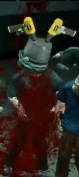 The Drill Bucket is a combo weapon that is found in Fortune City and the Phenotrans Facility. It is a bucket with three drills through the bottom of it, which can be made by combining a Bucket and a Power Drill. Its form of attack is being placed on a zombie's head, which activates the drills and drills through the zombie's skull and brain.
Primary Attack: Tap to slam the bucket down on a nearby zombie's skull. The drills will rev up, shredding the zombie's skull and earning 500 PP for the kill.
Appearances
Edit
The Drill Bucket can be used ten times; however, it breaks before it can complete the animation, rendering the tenth attack useless. In this sense, it can only be used nine times.
One of the events in Terror is Reality involves a non-improvised version of the drill bucket.
The Drill Bucket can only be used on zombies, and requires considerable time to kill even one zombie, making it more useful for recreational carnage than serious zombie-fighting.
With a little luck/skill, Chuck can grab a drill bucket after it kills a zombie, but before it touches the ground.
In Dead Rising 2: Case West the Drill Bucket has a different picture for the Combo Card.