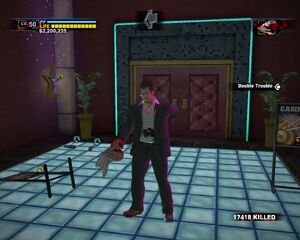 Double Trouble is a single-player Sandbox Challenge in Dead Rising 2: Off the Record.
Location: Shoal Nightclub, Yucatan Casino
Prerequisites: 9,500 kills
Mission: Defeat the twins as quickly as possible!
Gold (01:00)
Silver (02:00)
Bronze (03:00)
Gold: $45,000 + Reaper combo card
Silver: $20,000
Bronze: $10,000

In addition one of killed twins always drops $20,000
The co-op equivalent of this challenge is Tag Team.
Ad blocker interference detected!
Wikia is a free-to-use site that makes money from advertising. We have a modified experience for viewers using ad blockers

Wikia is not accessible if you've made further modifications. Remove the custom ad blocker rule(s) and the page will load as expected.