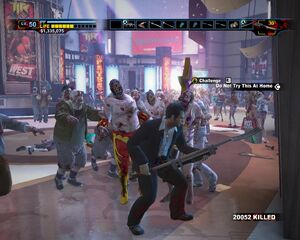 Do Not Try This at Home is a single-player Sandbox Challenge in Dead Rising 2: Off the Record.
Location: Fortune City Arena.
Prerequisites: 1,800 kills
Mission: Get as much PP as you can in 3 minutes!
Gold (40,000 PP)
Silver (10,000 PP)
Bronze (5,000 PP)
Gold: $40,000
Silver: $20,000
Bronze: $10,000
Ad blocker interference detected!
Wikia is a free-to-use site that makes money from advertising. We have a modified experience for viewers using ad blockers

Wikia is not accessible if you've made further modifications. Remove the custom ad blocker rule(s) and the page will load as expected.