For the Case Zero bike, see Broken Bike.
In Dead Rising 2 and Dead Rising 2: Off the Record, the dirtbike is a vehicle that is acquired during the mission Meet the Contestants. It can be combined with weapons to create many Combo Bikes or combined with spray paint to change its appearance.
Vehicle Modifications
Edit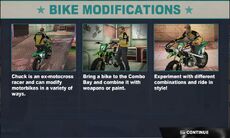 In Dead Rising 2, after defeating the psychopath Leon Bell in the mission Meet the Contestants, Chuck acquires a key to Leon's Combo Bay and a green dirtbike.
In Off the Record, after defeating the psychopath Chuck Greene in the People Like Us mission, Frank also acquires a key to the Combo Bay and a green dirtbike.[1]
The motorbike, located in the Combo Bay on the Silver Strip's north end, will respawn every time Chuck or Frank enters another area with a load screen.
Tutorial screen:
BIKE MODIFICATIONS
Chuck is an ex-motocross racer and can modify motorbikes in a variety of ways.
Bring a bike to the Combo Bay and combine it with weapons or paint.
Experiment with different combinations and ride in style!
The motorbike is the only vehicle that Chuck can customize with new paint jobs. Chuck can't paint the Chopper or the Mercenary Bike.
The following is a list of every item which Chuck can combine with the bike.[2]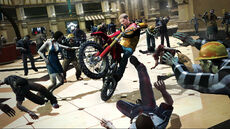 One of the first six pictures, released in February of 2009 announcing Dead Rising 2, shows Chuck riding a motorbike in front of a Cucina Donnacci with a different facade. See Dead Rising 2 Beta.
This vehicle is referred to as "SuperBike" in the PC files, including items.txt.
References
Edit
External Links
Edit
Ad blocker interference detected!
Wikia is a free-to-use site that makes money from advertising. We have a modified experience for viewers using ad blockers

Wikia is not accessible if you've made further modifications. Remove the custom ad blocker rule(s) and the page will load as expected.