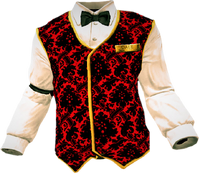 The Dealer Outfit is clothing found in Dead Rising 2. It is found specifically in:

Yucatan Casino (South VIP Room)[1] .
According to the name tag, the previous owner's name was Dale.
This outfit is the same exact uniform Jasper Sanford wears.
In Off the Record, it can be unlocked for the Clothing Locker by putting on a certain pair of shoes in the KokoNutz Sports Town.[Verification needed]
References
Edit
↑ Clothing 3, msxbox-world.
Ad blocker interference detected!
Wikia is a free-to-use site that makes money from advertising. We have a modified experience for viewers using ad blockers

Wikia is not accessible if you've made further modifications. Remove the custom ad blocker rule(s) and the page will load as expected.