"Come sample the finest cuisine of Italy in the heart of the USA. World renowned Chef Antoine has expertly crafted each recipe to deliver a symphony of flavor!"
—Fortune City map description
Cucina Donnacci is an Italian restaurant located in the Food Court of Fortune City in Dead Rising 2 and Dead Rising 2: Off the Record. This is where a psychotic chef Antoine Thomas holds Cinda Smith captive.
It contains six stoves that can be used to heat pans for a 1,000-PP bonus.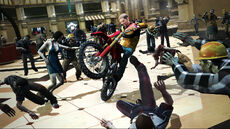 If the player throws a weapon into the ceiling, it will go through the ceiling and not come back down.
Ad blocker interference detected!
Wikia is a free-to-use site that makes money from advertising. We have a modified experience for viewers using ad blockers

Wikia is not accessible if you've made further modifications. Remove the custom ad blocker rule(s) and the page will load as expected.