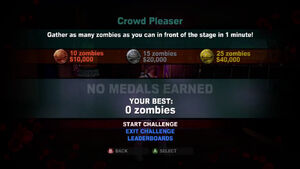 "Gather as many zombies as you can in front of the stage in 1 minute!"
—Description
Crowd Pleaser is a challenge in Dead Rising 2: Off the Record.[1][2]
The goal is to attract as many zombies to the Slot Ranch Casino stage as possible within the given time limit. This challenge mirrors the One Hit Wonder mission in the story mode.
To unlock this challenge, Frank must kill 300 zombies in sandbox mode.
Gold (25 kills)
Silver (15 kills)
Bronze (10 kills)
Strategies
Edit
Items that will lure zombies include the Fountain Lizard, Firecrackers and Casino Chips.
The gold medal can generally be achieved without using props, if Frank knows the Celebrate skill move. Simply stand at the front of the stage and use it repeatedly.
Using Zombait is a good way to lure zombies to the stage.
References
Edit
↑ Dead Rising: New Combo Weapon (Bouncing Beauty), youtube, (August 19, 2011).
↑ Dead Rising: New Combo Weapon (Pegasus), youtube, (September 5, 2011).
Ad blocker interference detected!
Wikia is a free-to-use site that makes money from advertising. We have a modified experience for viewers using ad blockers

Wikia is not accessible if you've made further modifications. Remove the custom ad blocker rule(s) and the page will load as expected.