About • Zombie Rights • Worst offenders • Get active • Contact us • Petition

NOT FOR OUR ENTERTAINMENT
The use or abuse of the previously living for the so-called purposes of "entertainment" constitutes the wholesale violation of undead rights. Add your name to learn more and get involved.

GET ACTIVE - STOP THE CRUELTY - MAKE A STAND NOW
Click on any of the available sizes for each of the CURE protest images to open the banner in a new window. To download, right click on the image in the new window and select SAVE PICTURE/IMAGE AS. Click here to download all banners and their formats in a single ZIP file.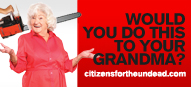 120 x 240 pixels | 160 x 600 pixels | 234 x 60 pixels

392 x 72 pixels | 468 x 60 pixels | All Grandma Banners
120 x 60 pixels
120 x 240 pixels
234 x 60 pixels
392 x 72 pixels
All Neighbor Banners

120 x 60 pixels
120 x 90 pixels
120 x 240 pixels
160 x 600 pixels
234 x 60 pixels
392 x 72 pixels
All Priest Banners

CLICK TO LEARN MORE ABOUT ZOMBREX