Chef Knife
Talk

0
1,945pages on
this wiki
The Chef Knife is a weapon found in Dead Rising 2 ,Dead Rising 2: Off the Record and Dead Rising 2: Case Zero. It has a surprisingly high durability with the easter egg sound in Dead Rising 2 and Case Zero. It can be combined with a boomerang to make a decapitator.
Primary: Press the button for a quick slash attack.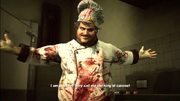 The music played during the secondary attack is from a Hitchcock film called "Psycho", as a person is stabbed with a large knife, the same iconic sounds play in the movie.
There is a Chef Knife hidden in the Safe House in Case Zero, back in the store area, on top of a shelf. Jump up on the shelf near the door to find the Knife.
In Dead Rising, the chef knife was called a Cleaver and didn't have a heavy attack.
This is Antoine's weapon of choice.