Channel 6 Action News
Talk

2
1,945pages on
this wiki
Channel 6 Action News is a television station in Dead Rising 2. It sent in Rebecca Chang and a news crew to report the zombie outbreak in Fortune City, and ultimately sent in a team of helicopters to rescue the survivors.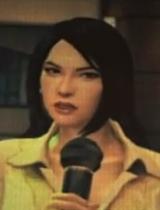 Introduction
Edit
A newscaster reported on a beef shortage in a local area before moving on to the Terror is Reality event taking place in Fortune City, including the CURE protest led by Stacey Forsythe outside the arena. They interviewed two "average citizens" in the area and asked for their views on the controversial zombie rights organization.
After the zombie outbreak started, Rebecca Chang, lead reporter of Channel 6 News, reported live from the Fortune City Hotel. She named Chuck Greene, a contestant on the Terror is Reality game show, as the prime suspect of starting the outbreak, with an alleged video to support her claim.
The newscaster made another report on the Fortune City outbreak, explaining that the zombies were confirmed to have undergone certain mutations, causing them to become more aggressive. They also reported that a rescue team was dispatched and no living survivors were found in the bunker.
Rebecca Chang offers to call the Channel 6 News Station and have them rescue the remaining survivors, but she is shot and killed by Raymond Sullivan.
Later, after retrieving the transceiver, Chuck Greene calls the station and explains who he is. He offers them the scoop of a lifetime, stating that there is a bunker full of survivors in Fortune City awaiting rescue.
Known Employees
Edit
Rebecca Chang is the lead reporter of Channel 6 Action News.
A male newscaster reported the zombie outbreak in Fortune City.
A crew was sent in with Rebecca Chang, but they had evacuated after making the first report.
Channel 6 Action News is a real news station located in Philadelphia, Pennsylvania.
In 'Left 4 Dead' Channel 6 Action News is the helicopter that picks them up in "no mercy" it is also the news station that picked up all the survivors in the Fortune City outbreak.
The beef shortage mentioned in the introduction of Dead Rising 2 may be a reference to the cause of the zombies. It is discovered in the first game through Dr. Barnaby that they accidentally created the Queen whilst trying to reduce the cost of breeding livestock.