Case 3-3: Secure Lab
Location
Secure Laboratory
Start Time
1am, September 30th
End Time
5am, September 30th
Psychopath
Harjit Singh

Case 3-3: Secure Lab is a Dead Rising 2: Case West case that introduces Marian Mallon.
A cutscene will play after Chuck and Frank enter the Secure Laboratory. Isabella Keyes, from Dead Rising is the source. As the trio are talking, Dr. Marian Mallon reveals herself and Harjit Singh attacks.
Mission Dialogue
Edit
Meeting with mysterious source
Secure Lab
(Loudspeaker): Power has been restored. Thank you for your cooperation.
Isabela enters
Isabela: Finally. You made it.
Frank: Isabela? You... you're my source?
Chuck: Isabela Keyes?
Isabela: It's been so long, Frank.
Frank: You work for them?
Isabela: Frank! I work for them, yes. But it's not like you think. I was forced to do it. It was that or go to jail.
Frank: So all this time you knew queens were a key ingredient? You've been helping them?
Isabela: I've tried to make a synthetic! They stole my work. I have been working on a cure. I was so close... I must get out of here and continue my research.
Marian: Oh my dear. I'm afraid that will never happen.
Isabela escapes
Chuck: She was just using us to escape.
Marian: Not to worry, gentlemen. No one is leaving from here alive.
Chuck: Don't give me that bullshit. You don't care about lives.
Marian: Everything we do here is for the greater good. You all rely on us. No one would stop us, even if they knew.
Isabela backs and shoots security guard
Frank: Isabela!
Harjit: Kuti!
Harjit hits Isabela with Impact Hammer
Isabela: Take it...the world must know...
Marian: Bring her to me. I still have use for her.
After the battle
Harjit breaks the container with Queens, which sting him to death.
Frank: You look like you could use a little Zombrex everyday yourself, lady! Why would you do this?
Marian: You can't think I need Zombrex anymore. I made something to remedy that years ago. With Isabela's very helpful notes...
Chuck: A cure? You've had a cure all this time?
Marian: Of course, it wouldn't have been in our interests to release it. Besides, none of you are worthy, not really. It's human greed and apathy that brought zombies into being. The human race deserves the zombie apocalypse. And now look at you! You destroy the very company that brings you the medicine that heal your loved ones. There will need to be another harvest now. You reap what you sow...
(Loudspeaker): Attention all personnel. Self-destruct sequence initiated.
Chuck: We've got to find it! The cure! It's got to be in here somewhere!
Frank: We've got to get of here, Chuck!
'Chuck: No, we can't leave! I need to find that cure for my daughter!
Frank: It's too late. We gotta go. Now!
(Loudspeaker): Evacuate now...
Outside Facility
Chuck: A cure. Can you imagine the difference that would have made to the whole world?
Frank: That might have been a lie, Chuck.
Chuck: I need to believe that there's a cure out there.
Frank: Well...at least we have the evidence they were behind the Fortune City outbreak.
Chuck: Nobody is going to take our world for what was going on in that place.
Frank: My Zombrex, I, I left it back in the...
Chuck: Take it. The world needs Frank West.
Battling Harjit
Edit
Harjit has the following attacks:
Impact Hammer Combo - two hooks and a hammer punch
Ground Pound - jumps then drives both impact hammers into the floor
Lunging Shoulder - crouches then charges forward with shoulder
Impact Hammer Dual Strike (hits forward with both hammers)
Ram - crouches then dashes forward with both impact hammers outstretched
Shelf Push - stands on the other side of a shelf and shoves it forward
Rocket Blast - jumps on top of a rocket holder and hits it to fire rockets[1]
The following weapons work very well against Harjit:
Remember to give Frank a weapon.
Harjit has a total of three life gauges. The two stars below his life gauge represent a separate life gauge. Once his visible green life gauge is drained, it will refill and one of the stars will disappear. Drain his life gauge three times to defeat him.[1]
Dodge Harjit's ram with a quick roll as he charges toward Chuck. If Harjit rams into any of the glowing cylinders that connect the machines around the laboratory he will be stunned allowing both Frank and Chuck to hit him.[1]
If Harjit breaks open one of the glowing cylinders on the east side of the room, a new area will be revealed. There is a shotgun off to the left when entering this new area.[1]
Call for help
Edit
Harjit will jump up on one of the machines found around the lab. This is when Chuck can shoot Harjit. The Harjit will summon some security guards, zombie handlers and Hazard Units which will attack Chuck and Frank.[1]
Kill the zombie handlers and the security guards, but both characters can usually outrun the hazard units. Take the security ARs from the security guards - the characters can shoot Harjit while on a machine.[1]
Later, Harjit jumps to the tops of rocket casings along the west side of the room. He hits them and rockets shoot out. Run to the opposite side of the room to avoid the rockets. The rockets will sometimes follow a character.[1]
Keep Frank equipped with a good weapon. Frank can help out a lot during the battle if he has a powerful weapon such as an impact blaster.
Take food off the shelves if needed.
While playing in solo mode, Harjit will focus on Frank, so Chuck can take advantage of that and Frank's invincibility and hit Harjit from a distance with gun shots.
Chuck can shoot Frank with the laser gun and allow the explosion to damage this boss.[1]
The message screen for this mission states:
GOAL: Meet the source and escape
DESTINATION: Secure Lab
Let's get to the Secure Lab and get out of here with the source!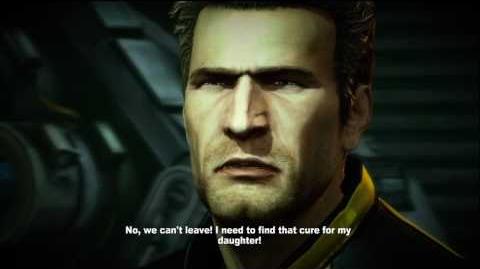 References
Edit
Ad blocker interference detected!
Wikia is a free-to-use site that makes money from advertising. We have a modified experience for viewers using ad blockers

Wikia is not accessible if you've made further modifications. Remove the custom ad blocker rule(s) and the page will load as expected.