Case 2-3: Regroup is a Case West case.
It is a short 27 second cutscene only. The source says he has Frank's evidence, but he is trapped in the secure lab. He needs to override the security lock of the main lab doors, which will take time. Frank and Chuck will have a few game hours before Case 3-1: The Way Out, another cutscene case.
After this case 2-3, three survivors can be rescued: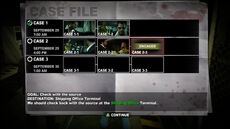 The message screen for this mission states:
GOAL: Check with the source
DESTINATION: Shipping Office Terminal
We should check back with the source at the Shipping Office Terminal.
Ad blocker interference detected!
Wikia is a free-to-use site that makes money from advertising. We have a modified experience for viewers using ad blockers

Wikia is not accessible if you've made further modifications. Remove the custom ad blocker rule(s) and the page will load as expected.