Burt Thompson
Talk

0
1,945pages on
this wiki
"Dammit! Just what I needed! Another crazy person harassing me!"
—Burt, upon seeing Frank
Burt Thompson is a survivor appearing in Dead Rising and Dead Rising: Chop Till You Drop. He is found barricaded in a clothing store in Al Fresca Plaza during the scoop Barricade Pair.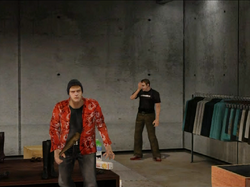 Burt is found with his friend Aaron Swoop inside a barricaded store in Al Fresca Plaza. When Frank breaks down their barricade to enter the store, Burt will attack him with a baseball bat under the impression that Frank is a psychopath. After Frank hits him back a few times, he surrenders. Frank then explains that he is here to bring them back to a safer place.
After being rescued, he will wait in the room with the blue door. When Ronald Shiner complains about the lack of food, he rallies up the other survivors in the same room, including Burt, to head out and look for food. If Frank does not stop Ronald's mutiny, Burt will leave the Security Room along with the other survivors in the same room. They will no longer count towards the number of rescued survivors.
Depending on the ending, Burt was either rescued by Ed DeLuca, taken into custody by the Special Forces and possibly killed to cover up the Willamette incident, or killed by Carlito Keyes's bombs.
Burt appears at the Heliport from 5:07:00 to 5:19:00 carrying coffee creamer and is armed with a battle axe.
Join Bonus: 10,000 PP
Escort Complete Bonus: 20,000 PP
Burt's picture is used for the Item Smasher achievement. This could be because he beats you with a baseball bat upon seeing you.
If Aaron dies before Burt is recruited, he will absolutely refuse to follow Frank; accusing him of Aaron Swoop's death.
Burt and Aaron's barricade will remain, and be back in its natural position if you go into Al Fresca Plaza, and tear it down, but do not recruit either one of them, and run back into either the Food Court or Entrance Plaza, and re-enter, if you did it like that, the barricade should be just how you found it.
In Dead Rising: Chop Till You Drop it is normally impossible to kill a survivor (unless you purposely blow them up with a propane tank) however, when you find Burt, you are given the option to beat him up until he stops attacking at which point all attacks on him will not work, however it is possible to over beat him before he gets up from the ground and kill him, you can still recruit Aaron though.
Burt is similar to a Case West survivor named Mizuki Tanahara, since they both attack you and you can't recruit them until you take out some of their health.