The brick is a weapon in Dead Rising 2, Dead Rising 2: Case Zero, Dead Rising 2: Case West, and Dead Rising 2: Off the Record. One attack with this weapon can easily kill a zombie.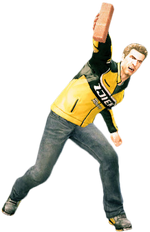 Main: Tap / to perform a vertical swing that can crush a zombie's head.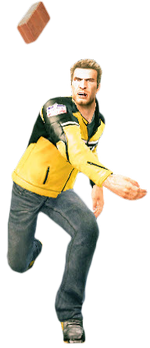 Alternate (thrown): Hold down / or press / and / to throw the brick like a football, resulting in a one hit kill. The brick has a similar damage effect to the football, minus the ricocheting effect.
Chuck bounces up and down like a football player before throwing the brick when the aim button (/) is held.
Weapon Animations

Animation name
Animation shared with
male_brick_8_to_4_a_miss

Unique to Brick