Bill Brenton
Talk

4
1,945pages on
this wiki
"I can't believe this. How could there be such a thing as zombies?"
—Bill, upon reaching the Security Room
Bill Brenton is a survivor appearing in Dead Rising and Dead Rising: Chop Till You Drop. He is found trapped behind a pile of cardboard boxes in In The Closet during the unmarked scoop Man in a Bind.
Dead Rising
Edit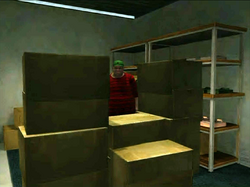 Bill is found trapped in the storage area of a clothing store in the Entrance Plaza. He calls out to Frank when he hears somebody entering the store. After removing the cardboard boxes trapping him, he will thank Frank and explain that he had been trapped for two whole days after the boxes fell down while he was getting the place arranged. He walks out of the store only to find a number of zombies in front of the place. After letting him know about the situation, Bill agrees to follow Frank to the Security Room.
After being rescued, he will wait in the room with the blue door. When Ronald Shiner complains about the lack of food, he rallies up the other survivors in the same room, including Bill, to head out and look for food. If Frank does not stop Ronald's mutiny, Bill will leave the Security Room along with the other survivors in the same room. They will no longer count towards the number of rescued survivors.
Depending on the ending, Bill was either rescued by Ed DeLuca, taken into custody by the Special Forces and possibly killed to cover up the Willamette incident, or killed by Carlito Keyes's bombs.
Bill appears in the North Plaza (Crislip's Home Saloon) at 0:07:00 - 0:19:00 and is armed with a nail gun. When killed, he drops a pack of melted ice pops, a cleaver, a machete, a sledge hammer, and a toolbox.
Join Bonus: 10,000 PP
Escort Complete Bonus: 20,000 PP
It should be noted that it seems that Bill can be grabbed by zombies a lot easier than the other survivors, so staying close to him is a good idea.
Bill's picture is used for the Freefall achievement.
Bill's predicament may be a reference to R&B artist R. Kelly's urban opera musical "Trapped In the Closet".
The boxes he is "trapped" behind are perfectly arranged in a wall, and many of the boxes contained small items, that meant the boxes could have easily been pushed over. It is possible he might have made up being "Trapped" so that Frank did not see any sort of weakness in his survival skills.