Basketball (Dead Rising 2)
Type
Ranged
Uses
15
Strength
2 (Weak)
Location
SporTrance


The Basketball is a weapon found in Dead Rising 2 and Off the Record.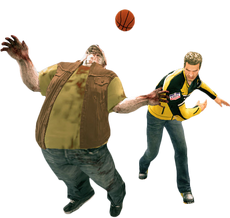 *Main:

/

to throw the basketball. When a basketball is thrown and hits a zombie, it will keep bouncing off zombies heads. It works very similar to the way the Soccer Ball does in Dead Rising 2.
Weapon Animations

Animation name
Animation shared with
male_beachball_throw