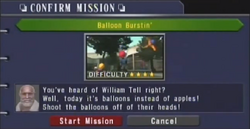 "You've heard of William Tell right? Well, today it's balloons instead of apples! Shoot the balloons off of their head!"
—Otis
Balloon Burstin' is a second amendment mini-game in Dead Rising: Chop Till You Drop.
Time limit: 3 minutes
Number of targets: 10 balloons
There are 2 parrots, 2 poodles, and 6 zombies with balloons attached to them. Frank has to find and shoot all of these balloons WITHOUT shooting the zombie that it is attached to. The location of the enemies are all random. Look around carefully for the zombies, as they are sometimes hiding behind walls, trees, etc. For the parrots, be sure to aim for the balloon, and not the actual parrot themselves.[1]
References
Edit
↑ Dead Rising: Chop Till You Drop - Second Amendment, S Ranks (Missions 1-10) (1/2), Youtube, (July 7, 2009).
Ad blocker interference detected!
Wikia is a free-to-use site that makes money from advertising. We have a modified experience for viewers using ad blockers

Wikia is not accessible if you've made further modifications. Remove the custom ad blocker rule(s) and the page will load as expected.